Everything you need
to manage your translations
B

ring people, content and technology together and focus on your business

Your team
Project Managers and all your departments members.

Your translators
Your in-house translators as well as all the agencies and freelancers you already work with.

Your content
Create translation projects by uploading documents, or connecting your CMS like Wordpress



Your tools
Translate from Parlam Workbench CAT tool, and save time and money with the Translation Memory.
THESE COMPANIES HAVE ALREADY USED PARLAM

EVERYTHING YOU CAN DO WITH PARLAM TMS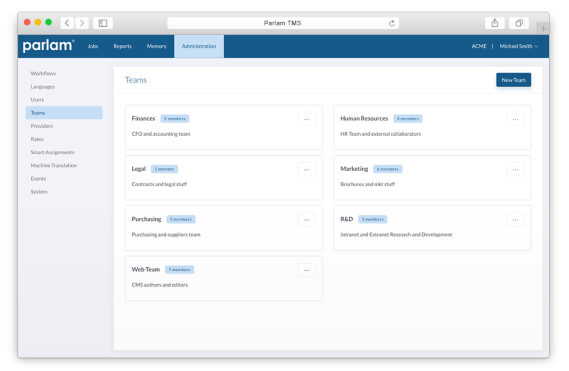 Organise projects by teams or departments

Projects can be associated with specific people, respecting privacy and security of data.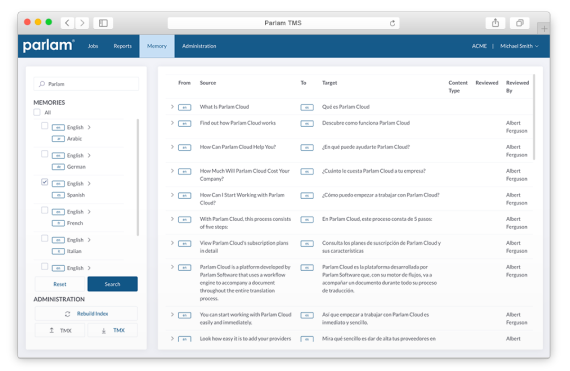 Save time and money with the Translation Memory

Each translated phrase is stored in a database known as the Translation Memory. Every new content translated in the past will be retrieved from this archive. This time-saver allows profits to skyrocket while delivery times are reduced.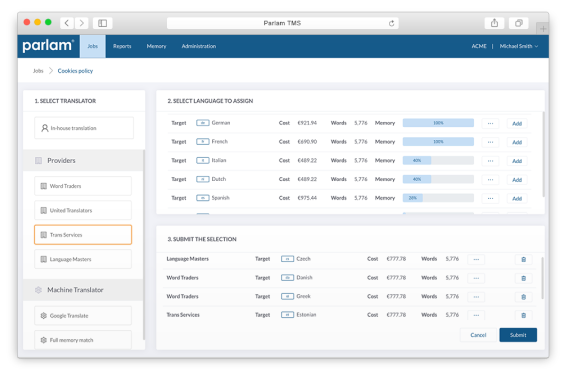 Control the cost of each job before translating it

Before making a request, you'll know the cost. Manage rates for each translator by controlling cost down to 4 digits of precision.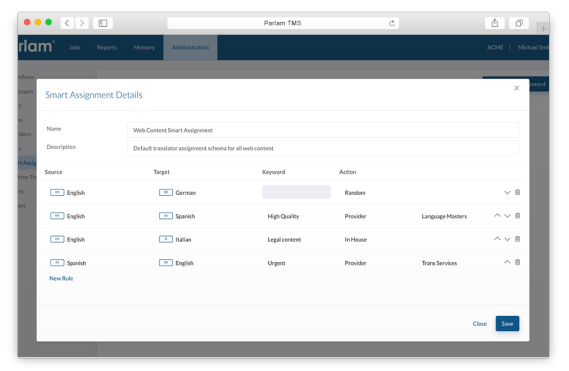 Automatically assign each language to the most qualified translator

Using a set of rules, Parlam can automatically assign a language, content type, quality level, or state of urgency to a specific translator.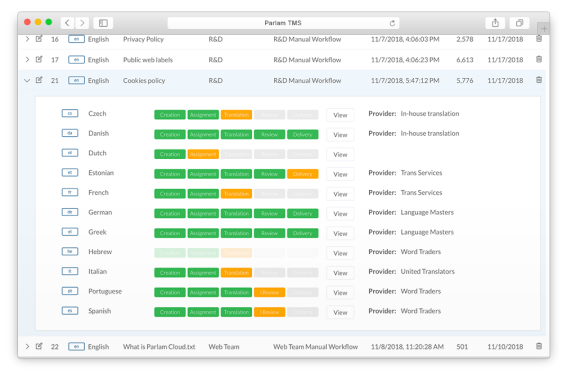 Work with as many agencies and translators as you wish

Using Parlam TMS, you work with the translators and agencies of your choice, or opt to use our Machine Translation connectors.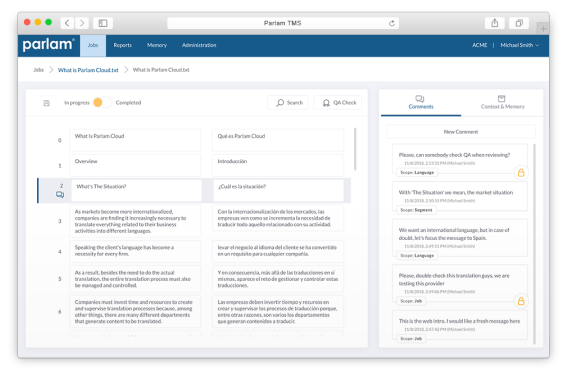 Use Parlam Workbench to translate or review your translations

Assisted by the Translation Memory, and the Parlam Workbench CAT tool, you will have all you need to translate or review your translated projects.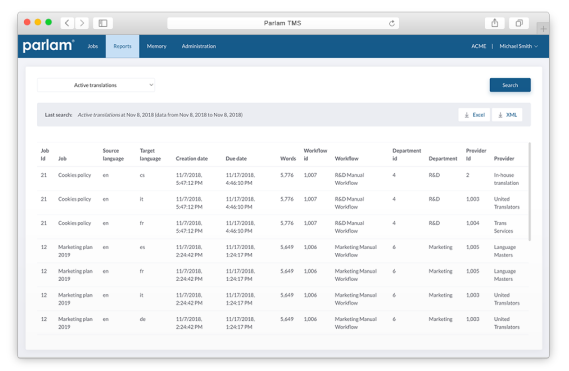 Create detailed reports and gain more control

How many active translations are there? What were the monthly costs for each department? What is your Translation Memory's activity? What are the translators' ratings for each language?
"Parlam has brought us an improvement in translation quality plus cost savings of over 30%."

Andrea Mackay
Content Executive NH Hotel Group
The translation memory
The Translation Memory is a database of translated phrases created as you translate. Each time you create a translation project, Parlam TMS does a phrase-by-phrase search in its memory. If it finds a phrase with a similarity of 50% to 100% then you will save money.
It's very likely that your business includes similar products and descriptions sharing common content, so the more you translate, the more time and money you save.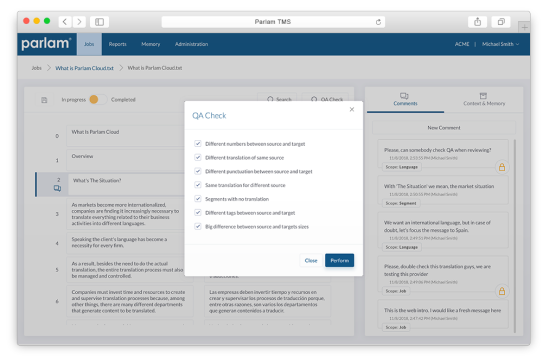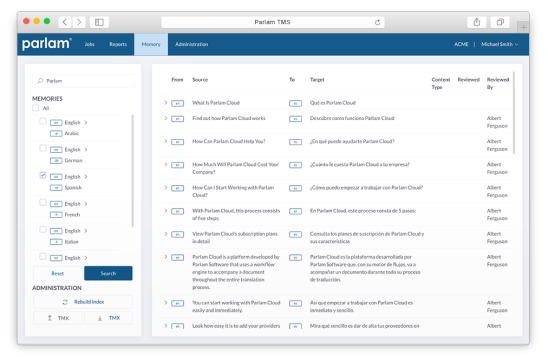 Parlam Workbench
Parlam Workbench is an editor that allows you to translate and review the translations that you receive from agencies or translators.
It's very easy to use and can be managed by translators and copy editors within your organization. Parlam Workbench allows you to translate phrase-by-phrase documents in Word, PowerPoint, Excel, and 30 other formats, as well as adding comments for your team and ensure translation quality with our QA Check.

Parlam Connector for SDL Web
Our connector for SDL Web (Tridion) has more than 10 years of experience. It allows you to translate all the content of your CMS, including an automatic publishing engine that reduces your time to market to a minimum.

Parlam Connector for WPML (WordPress)
Thanks to WPML, the unrivaled multilingual plugin for WordPress, and the connector with Parlam, you will be able to translate pages, posts, custom types, plugin content and taxonomies from your WordPress sites.
FREQUENTLY ASKED QUESTIONS
Who is Parlam TMS for?

Parlam TMS is perfect for companies that translate content from various sources, or that work with several translators at one time. It is built for those whose management is complicated or have a high volume of translations difficult to manage.

In the article "4 Reasons Why your Company Needs a TMS", Parlam's CEO explains which company's problems can be solved with Parlam TMS.
How much does Parlam TMS cost?

As a SaaS platform operating on the cloud, Parlam TMS has an annual fee. We understand that each company has different requirements and we study each case separately. Therefore, we recommend that you contact us to receive the best quote possible.
Will I need to install anything onto my systems?

Parlam TMS is a SaaS product working within the cloud and does not require any installation on your side. You will only need to install software when you'd like to use one of our connectors or prefer to connect to Parlam TMS directly with our API REST. Get in touch with us to explain your case and we will find the best solution for you.
How do I connect Parlam TMS with my CMS?

At Parlam, we offer some connectors for CMS products such as for SDL Tridion or WPML (WordPress). Connectors usually have a plugin that is integrated into your CMS like a new menu. A background service is responsible for communicating every few minutes with Parlam TMS to send new jobs and retrieve translations that are complete.
Does Parlam offer or recommend translators?

No. We are a technology company and our product acts as a bridge between your organization and the translators and agencies you wish to work with. If you already have your translators, implementing Parlam TMS is a quick process and they will not even notice the change.
How can I continue working with my current translators and agencies?

You can grant them access to your Parlam TMS so that they can take advantage of Parlam Workbench editor. If you work with agencies who already use their tools, you can exchange XLIFF or other files by configuring an FTP server in Parlam TMS. It's not essential that your translators have access to your Parlam TMS.
Does Parlam need any software development from my side?

If we don't have a connector for your CMS, or you have a proprietary system, then Parlam offers different mechanisms to communicate with Parlam TMS. An FTP listener or REST service through our API opens the path to any platform and programming language.
What do I need if I want to use Parlam?

A web browser on your Windows, Linux, or Mac; That's it.
Can I take advantage of the translation history of my company?

Of course! Every translation agency works with a Translation Memory, meaning there is a memory of each client history. Since the content is your intellectual property, you have the right to claim memories to your translators or agencies by requesting TMX files. As soon as you start working with Parlam, you can load these files into your memory and start saving from day one.